Smart Home Solution-Smart Lock
With the development of technology, the Internet of Things era has entered thousands of households. Everyday household appliances are gradually interconnected through the Internet of Things to achieve millisecond-level intelligent linkage. As an important protective barrier for the home - the door lock also entered the era of smart door locks. In 2018, the warming of the smart door lock industry and the landing of products can be viewed as the highlight of the entire smart home industry.
The Smart Lock refers to a lock that is more intelligent in terms of user identification, security, and management than traditional mechanical locks.
The advantage of Smart Lock:
1. Convenience:
Supports fingerprint unlocking, password unlocking, swipe card unlocking, mobile phone unlocking, key unlocking and other unlocking methods to meet the usage habits of different groups of people.
2. Safety:
Adots C-class lock cylinder with the highest safety level, with smart monitoring, such as password setting reminder, door lock open or close reminder, battery replacement reminder, lock tongue blocking reminder, violent damage reminder, etc.
Realtek RTL8762CKF/RTL8762DKF/RTL8762DDF has low power consumption, rich interfaces, mature platform and so on. It is widely used as a mature solution in smart locks.
Realtek offers two options:
Solution 1: RTL8762CKF/RTL8762DKF plays the role of the master MCU
This solution uses RTL8762CKF/RTL8762DKF as the master MCU, which can directly plug in the fingerprint module(take RTL8762CKF as the mainstream)/fingerprint head (take RTL8762DKF as the mainstream), display screen, microphone and audio codec, effectively reducing system cost.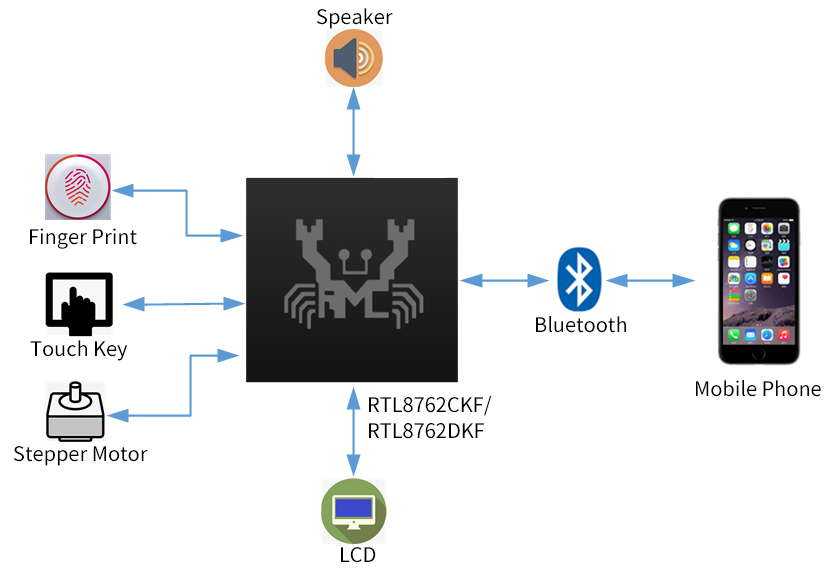 In the above scenario:
The fingerprint module is connected to RTL8762CKF through the UART interface;

The fingerprint head connects to RTL8762DKF through SPI interface

The touch screen module is accessed through the UART interface;

The microphone module voice input can be accessed via AMIC/DMIC;

Codec +Speaker connects to codec via I2S, then codec connects to Speaker, which is designed to achieve high quality sound;

The LCD display module is accessed through the I8080 interface;

RTL8762CKF/RTL8762DKF provides bluetooth interface for APP management;

The external stepping motor realizes unlocking.
Solution 2: RTL8762DDF executes bluetooth transparent transmission
On the original smart lock, the RTL8762DDF is extended through the UART interface to perform bluetooth data transmission, which is beneficial to the upgrade development of the original smart lock.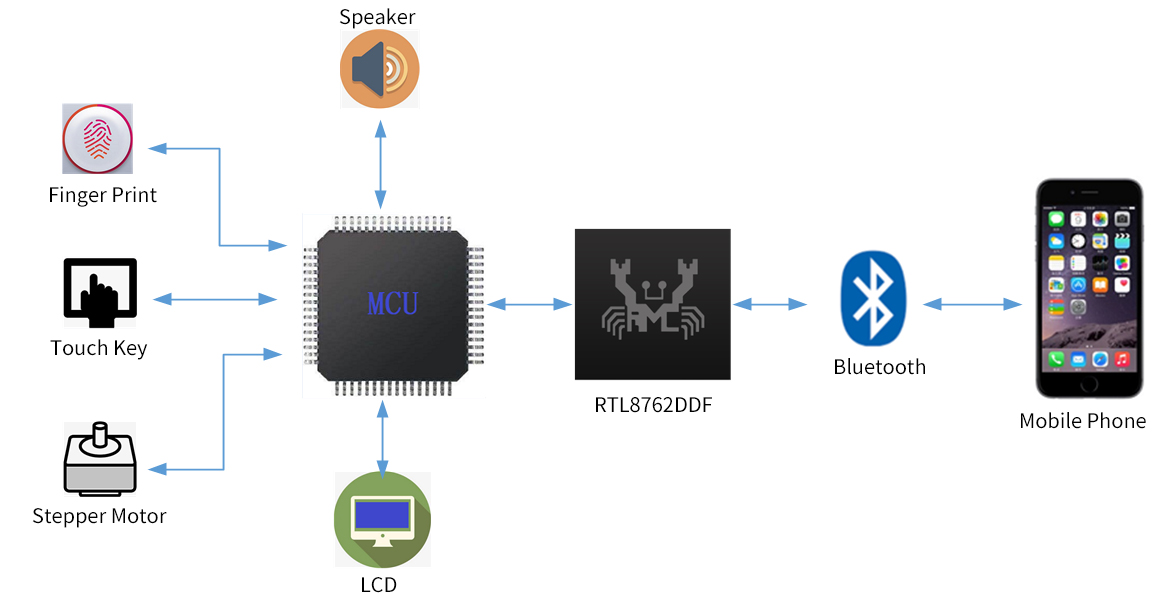 | | | | | | |
| --- | --- | --- | --- | --- | --- |
| IC Part Number | CPU Frequency | BT Spec | Internal Flash | GPIO | Package(mm) |
| RTL8762CKF | 40MHz | BT5.0 | 512KB | 33 | QFN48 6X6 |
| RTL8762DKF | 90MHz | BT5.1 | 512KB | 34 | QFN48 6X6 |
| RTL8762DDF | 60MHz | BT5.1 | 512KB | 26 | QFN40 5X5 |