Consumer Electronics - Smart Wristband (RTL8762C)
With the introduction of the wearable devices' concept, the smart wristband market has experienced rapid growth, and today the smart wristband has become one of the most important wearable devices. As a technology product that is currently being noticed by users, the smart wristband has powerful functions that is quietly infiltrating and changing people's lives.
The basic functions of the smart wristband include sports step counter, smart alarm clock, message reminder, sleep monitoring, and social network sharing, etc. These data can be synchronized with mobile phones and tablets through Bluetooth 4.0 technology, and further stored in the cloud. Data analysis will play a significant role in guiding healthy living. User's requirements for wristband functions are more complex, while their requirements for quality is also getting higher. The wristband market begins to be distinguished into several directions, including Fashion Wristband, Sports Wristband, Health Wristband, and Financial Payment Wristband.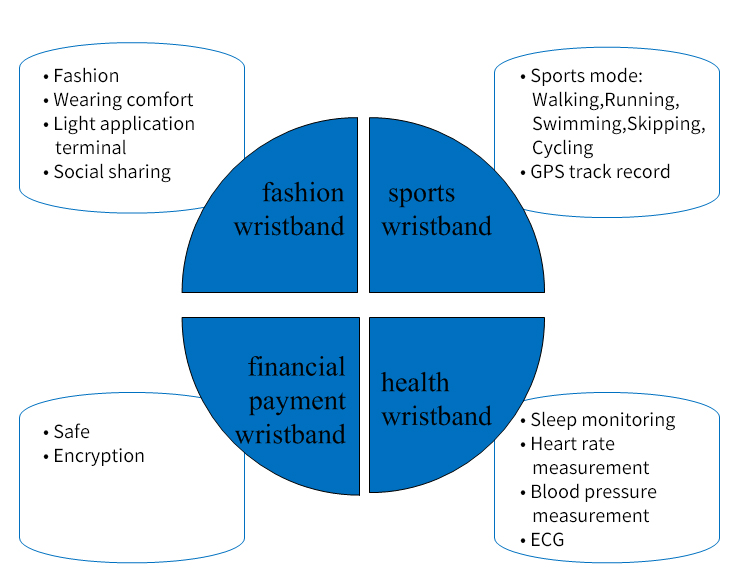 The technical difficulties in the development of the Wristband are as follows:
1) The Functions become more and more complex, this means the engineering complexity will be improved.
2) The Functions become more and more complex, requiring more storage space (Flash, RAM) and sufficient CPU computing ability.
3) More accurate motion algorithms and health algorithms are required.
4) The requirement for battery life means that the system's power consumption needs to be low enough.
5) The Wristband is interconnected with the mobile phone via Bluetooth low energy technology, requiring to be familiar enough with low power Bluetooth technology.
6) It is necessary to take the problem development in the two different areas of the wristband firmware and mobile application into account.
7) Android mobile app should be compatible with different versions of Android mobile phones from different vendors.
To help developers accelerate the development of Wristband products, Realtek has launched a complete smart Wristband solution based on the RTL8762C chip, which includes the complete SDK, HDK and mobile APP solutions.
In the above scenario:
Exterbal Heart rate/pulse sensor for health monitoring and sleep monitoring;

External sports sensor for sports step counter;

GPS for positioning and the movement track recording;

External vibration motor to achieve the functions, such as, smart alarm clock, message reminder, etc;

Supports LCD screen for human-computer interaction;

Supports Bluetooth 5.0 for data synchronization with mobile phone;
The advantages of the complete solution of Realtek smart Wristband:
1) Complete Wristband solution, one-stop service.
2) Easy to use software development environment (Keil).
3) Complete function module with all the Wristband functions.
4) Competitive cost solutions.
5) Ultra-low system power consumption to ensure sufficient battery life.
6) Stable Bluetooth protocol stack, with years of experience in Bluetooth products, all Bluetooth chips are certified by Bluetooth.
7) Sufficient hardware resources: CPU computing power, internal Flash and RAM space, peripheral interfaces.
8) Stable, efficient and rich algorithm library for accurate exercise, sleep, heart rate monitoring, and support for complex operating modes.
9) Special technoloy to optimize GPS-equipped solution, achieving optimal system power and cost solutions.
10) Compatibility tests among hundreds of popular mobile phones to ensure compatibility of the Bluetooth protocol stack and Android application compatibility.
Realtek Smart Wristband Design Flow Chart: