Quickly upgrade the wireless Bluetooth transmission audio function to a media device
Realtek's Bluetooth dual mode MCU solutions is a compact, programmable single chip that integrates both Bluetooth classic and Bluetooth LE audio communication protocols, it allows for the creation of wireless Bluetooth transmission or receiving data and audio between the product and other devices. It has advantages of high-quality audio, ultra-low power consumption and rich external interfaces. The line-in/ADC are audio interface suitable for connecting to commonly used laptop, mobile phone and physical microphones, which already function properly in the solution. On the other hand, the I2S/UART/I2C interfaces are capable of connecting extra audio processor, which can decode a variety of digital format such as SPDIF or Ethernet to extend the application area.
System Structure
Audio transmitter block diagram: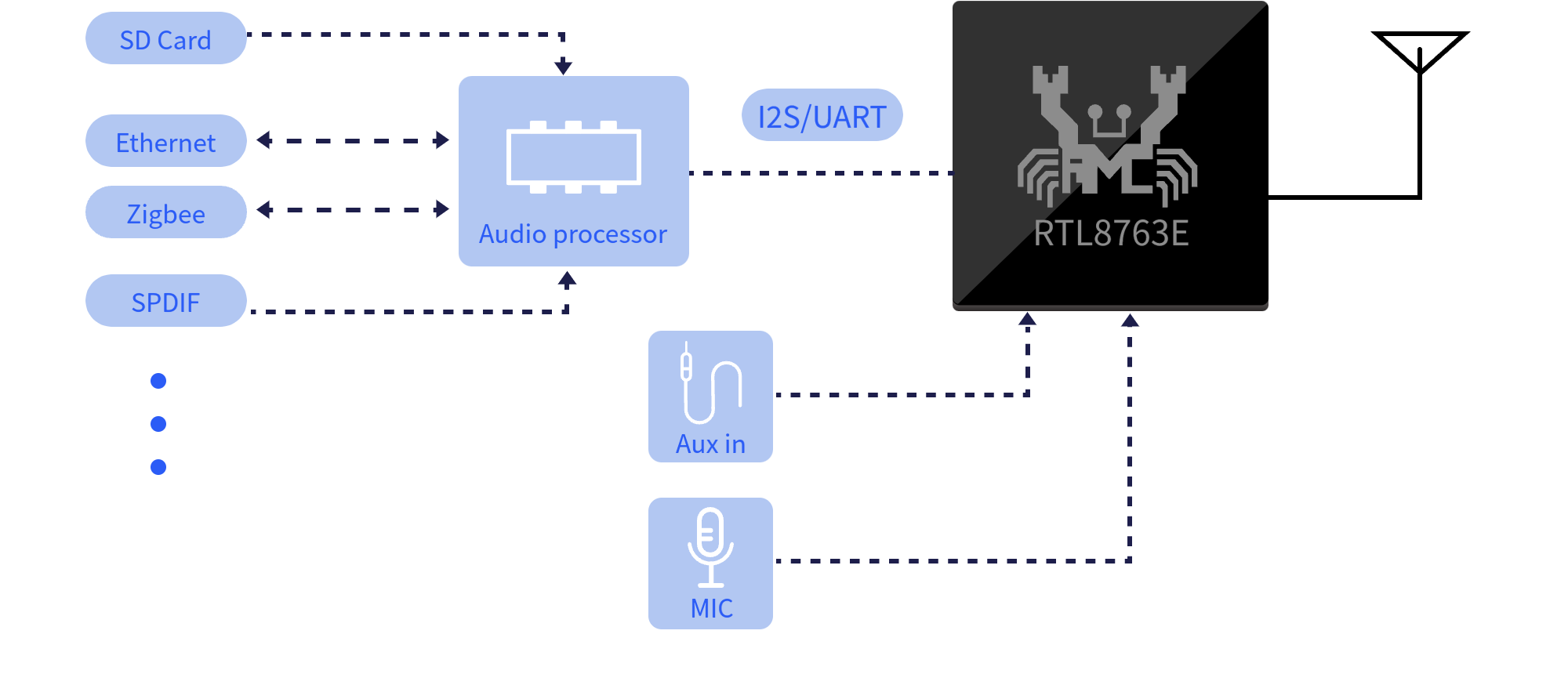 Audio receiver block diagram:

Audio transceiver block diagram:

Application Scenario
Auracast broadcast audio application in a fitness room
Audiovisual fitness classes: In a fitness class, the instructor can use Bluetooth Auracast to broadcast music or verbal cues to participants wearing auracast enabled bluetooth headset. This can help to create a more immersive and engaging workout experience.
Multilingual audio: In a fitness room that serves a diverse population, Bluetooth Auracast can be used to broadcast audio content in multiple languages. Users can choose to connect to the system using headphones and listen to audio in their preferred language.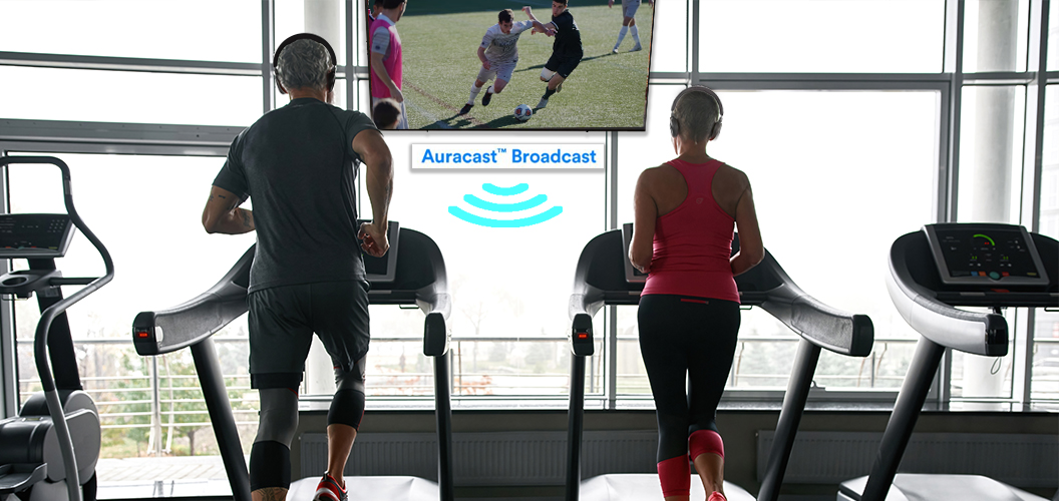 Application Example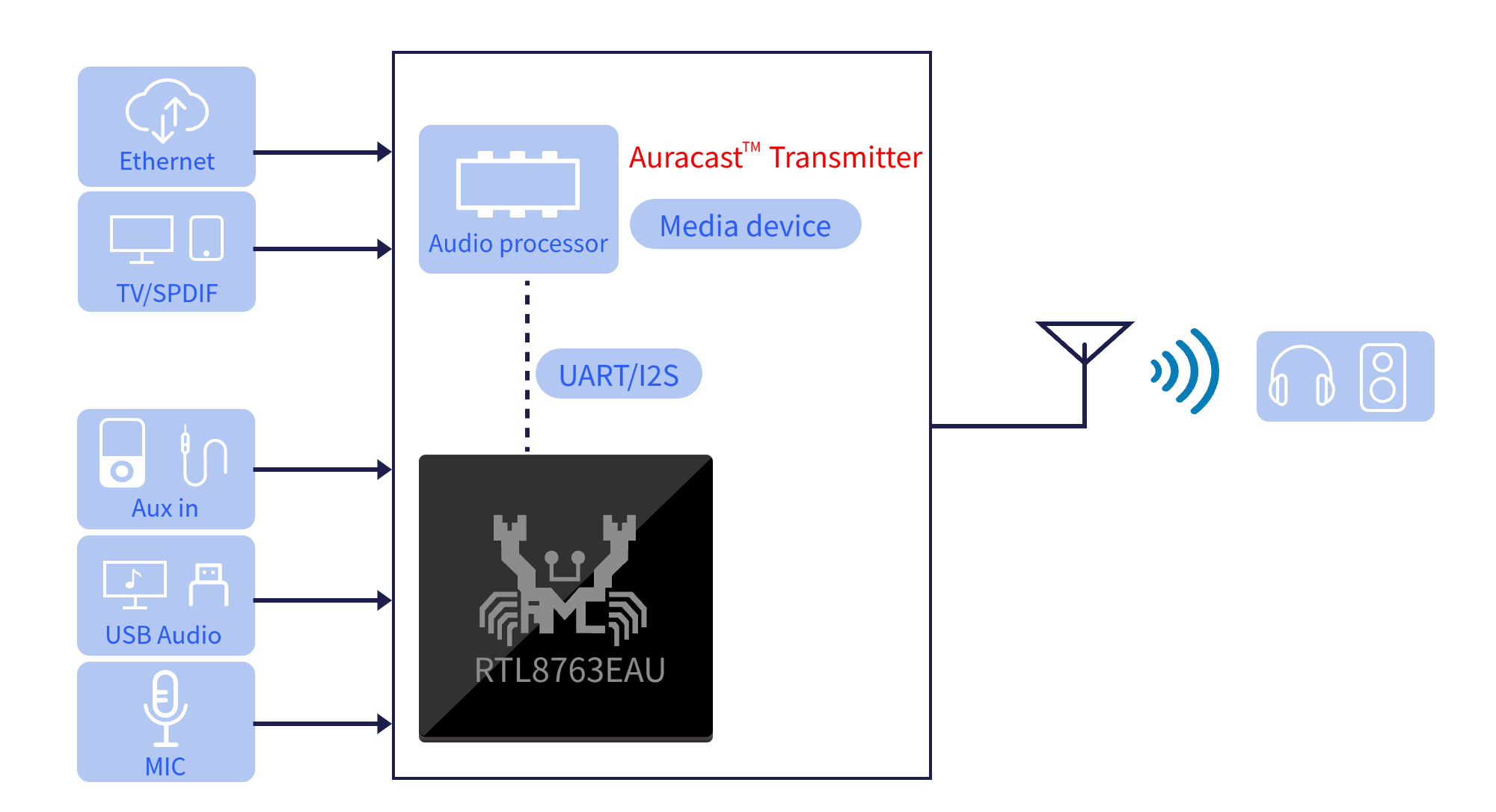 Media device with Auracast™ Transmitter functionality
An Auracast transmitter product is designed to receive analog audio signals as well as various of digital formats such as SPDIF, USB or Ethernet. The design architecture will consist of an audio processor module and Realtek BT dual-mode MCU chip.
1. Audio source processor
This device receives digital signals from sources such as SPDIF from TV or over Ethernet. The processor decodes it, improve the signal quality and then output it in PCM data format.
2. Realtek dual mode BT Audio SoC
RTL8763E is used as the Auracast main controller, which bridges the audio source of audio processor through the I2S or UART interface. Besides, RTL8763E can receive analog signal of line-in or physical microphone independently. A Bluetooth module of RTL8763E enables Auracast broadcast functionality to fulfill the transmitter.
Advantage of Solution
Rich external interfaces
Supports I2S, Line In to connect audio data; while digital interfaces such as GPIO/I2C/UART/SPI can be connected to a wider range of sensors or external devices.
CPU resource
MCU memory and CPU computing power provides basic sensor data processing and handles the interaction with external devices.
Integrates multiple Bluetooth modes
It contains Bluetooth LE, Bluetooth Legacy, LE Audio and Auracast broadcast audio mode, thus fulfilling product requirements with state of art Bluetooth technology.
Equipped with a transmitter and a receiver
Having both a transmitter and a receiver can increase the variety of products designed by customers. Users can also choose a mode of operation through dynamic switching.
Completed development kits
Fully-featured SDK, including a variety of product prototype projects and mobile App SDK, OTA Tool, significantly reduces the design time and accelerates project mass production.
Related SoCs
RTL8763E

RTL8763E series are Realtek's dual mode Bluetooth MCU solutions with high-quality audio and rich external interfaces, which can quickly upgrade the wireless Bluetooth transmission audio function to your media device. It is suitable for Auracast transmitter, audio toys, Bluetooth audio receiver for home stereo or speakers.