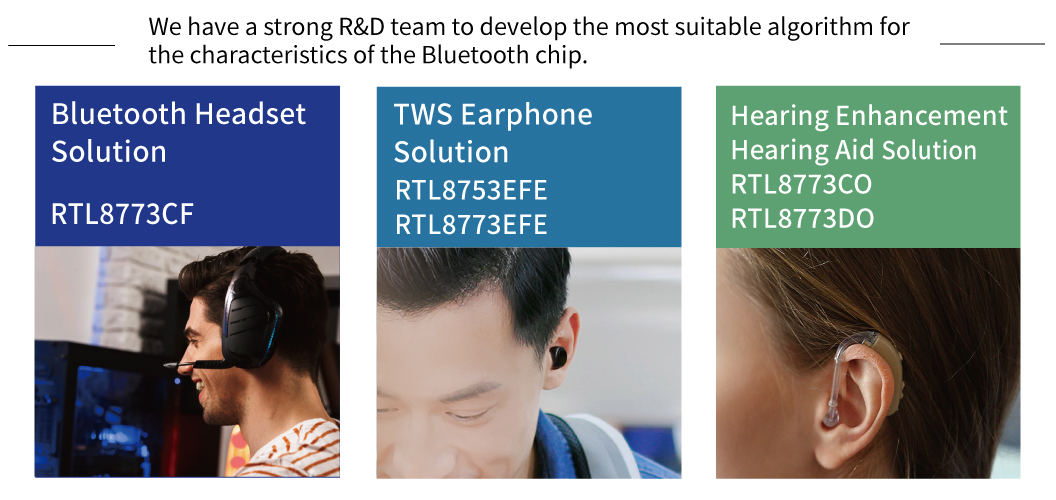 AI-ENC call algorithm is based on deep learning
The AI-ENC call algorithm is based on deep learning neural network algorithm, which can realize the extraction of human voice and background sound separately to get clear human voice and optimize the sound quality; in addition, the AI-ENC call algorithm has been trained by many big data, and the technology is mature enough to recognize and respond to different scenes quickly. And because Realtek is a chip design house, and our algorithm can be perfectly matched to its own chip platform, to achieve high-performance applications, effective suppression of wind noise, noise reduction effect is more outstanding! AI-ENC call algorithm currently supports single and dual microphones.

RHA hearing aid algorithm to improve hearing life
Real Hearing Aid - RHA hearing aid algorithm works in three main directions, which are Feedback Management, Clear Sound and Amplifier. The volume can be adjusted independently for different hearing loss in both ears, and the human voice band can be enhanced. Users can adjust the compensation of high and low frequencies through the mobile app, and can define their own 16-channel Wide Dynamic Range Compression (WDRC). It also has an anti-snooze algorithm for feedback cancellation of high-end hearing aids.

Realtek's self-developed algorithm for Bluetooth headset applications
The 2022 (Spring) Asia Bluetooth Headset Conference Live Online Seminar, organized by I Love Audio, invited a total of 10 experts in the field of audio to discuss the trend and direction of the audio market live on 4/20 (Wed), and introduced the advantages and leading technologies of each product. This time, we also participated in the online live event, and the accumulated number of viewers on the online live broadcast was about 4,000, and the planning manager, Mr. Denchao He, introduced the "Application of Realtek algorithm on Bluetooth headset solution". We have strong R&D capabilities and our R&D team has developed the most suitable algorithms for the characteristics of Bluetooth chips, such as AI-ENC call algorithm, Hybrid ANC active noise reduction algorithm, Adaptive ANC active noise reduction algorithm, R.A.M.P product line ANC adaptive calibration algorithm and RHA adjunct algorithm, hoping to bring the most competitive solutions to our customers.