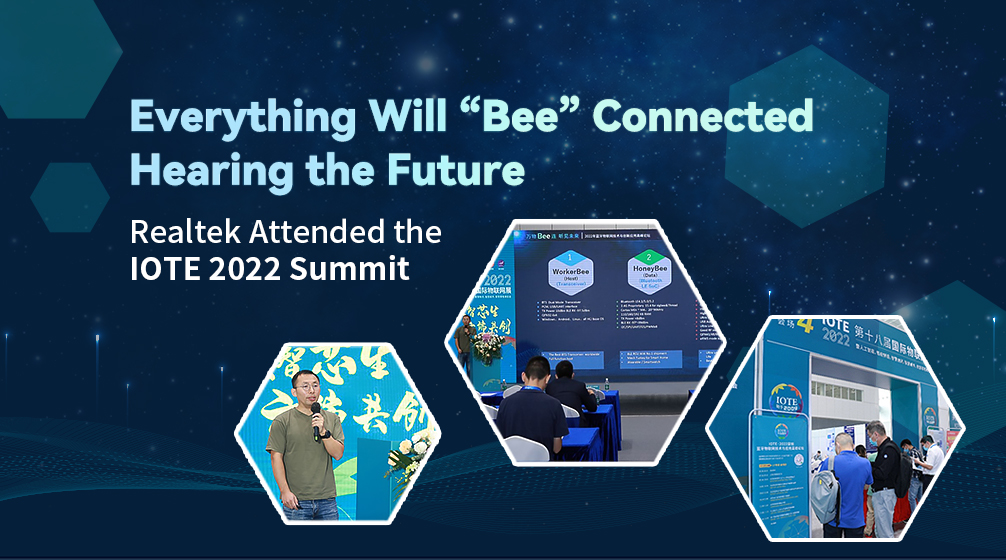 The Bluetooth Special Interest Group (hereinafter referred to as the SIG) released the Auracast™ broadcast audio technology in July this year to promote the next-generation Bluetooth audio market. On November 15 this year, the IOTE 2022 · Shenzhen Bluetooth IoT Technologies and Innovative Applications Summit, co-organized by Ulink Media and the SIG, invited Bluetooth industry promoters from across the world to share the current status and future trends of the Bluetooth market, creating new application opportunities. Big companies such as Realtek Semiconductor Corp., Tuya Smart, and Nordic Semiconductor were invited by the Summit to discuss topics such as the application and trend of Bluetooth LE (Low Energy) in IoT audio, as well as the applications and innovation of Bluetooth Mesh in various industries.
Realtek's Keynote Topic: Everything Will "Bee" Connected - Hearing the Future
The keynote topic of Realtek in the Summit was "Everything Will 'Bee' Connected, Hear the Future - Application and Development of Bluetooth IoT and Audio." The content includes RTL8762X, the best solution for Bluetooth IoT, the LE audio solution for Auracast™ broadcast audio, and LE Audio RTL8773E that can be mass-produced quickly.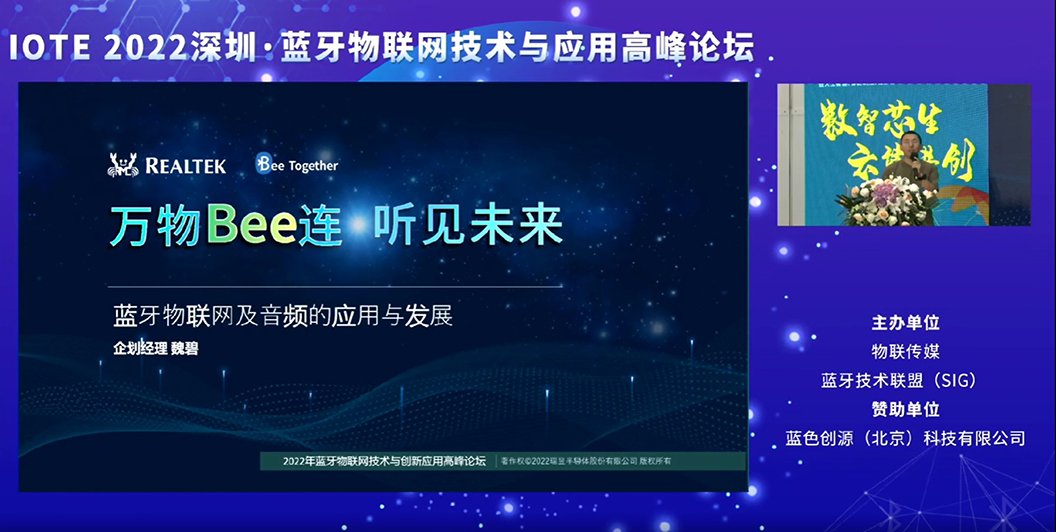 Best Bluetooth IoT solutions
RTL8762X is Realtek's Bluetooth IoT solution. The SDK solution with many years of mass production experience exhibits rich interfaces that can be applied to many IoT devices, such as smart door locks in master and passive modes, smart dashboards, healthcare, infrastructure, smart homes, etc.
LE Audio solutions that supports Auracast™ broadcast audio
As an active developer of LE Audio, Realtek quickly responded to the market and launched solutions that support Auracast™ broadcast audio, including the RTL8763E, RTL8773E and RTL8773D. First, we would like to introduce the Auracast™ Transmitter – RTL8763EAU, a BLE Audio Dongle with a USB interface, which can be connected freely to existing devices, allowing products that do not support LE Audio to have the capability of supporting Auracast™ broadcast audio transmitters. Next is the Auracast™ Receiver-RTL8763E, RTL8773E, RTL8773D BLE Audio Earphone, which can be applied to TWS headsets or traditional Bluetooth earphones to enhance their receiving capabilities. Last but not least is the Auracast™ Assistant - RTL8763E, which acts as the command terminal. It supports the Auracast™ receivers as well as Bluetooth® Auracast™ broadcast devices, and can be applied to smart watches.
Realtek supports LE Audio's complete end-to-end connection system. In addition to the above Bluetooth solutions, it also provides solutions such as earphone chargers, games, business communications and hearing aids, allowing customers to enter the world of broadcast audio as quickly as possible.