Realtek began collaborating with well-known factory in 2008 and laid a solid foundation for Bluetooth development. Over the past decade, Realtek's Bluetooth has been applied to various products. In 2015, we launched the first Bluetooth low energy (BLE) SoC, and Realtek's BLE has become the industry's top choice and indicator for collaboration.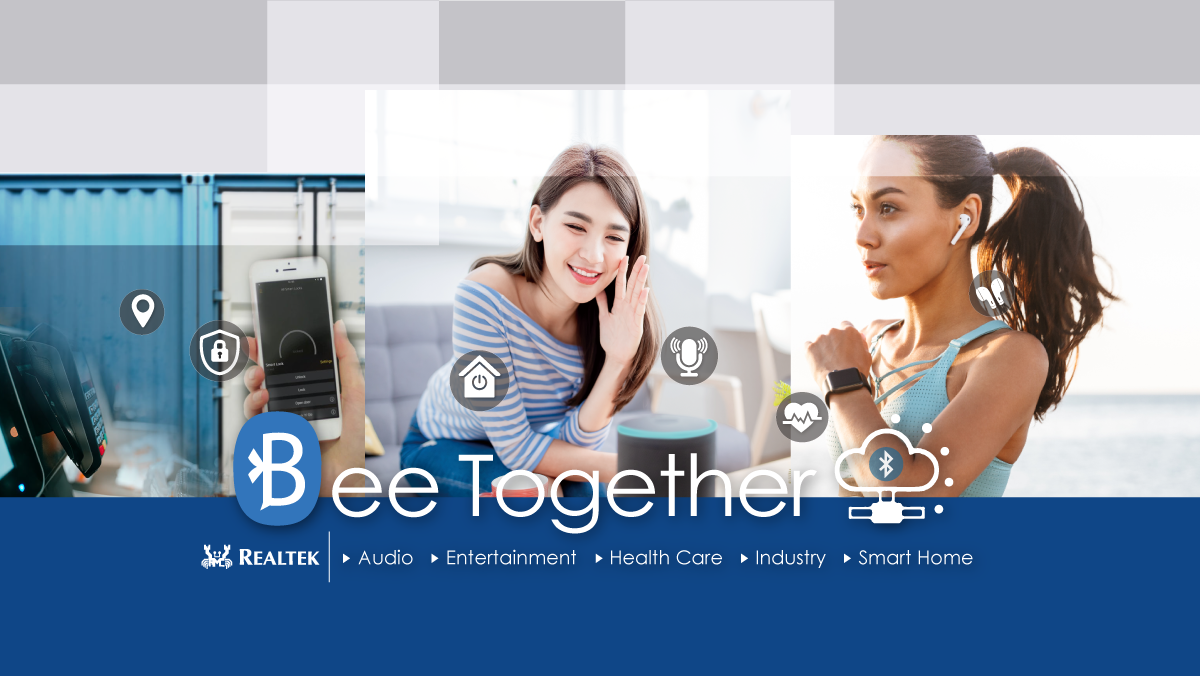 Life-changing Blue
WorkerBee RTL8761X IC series is the world's best BT5 transceiver, widely used in PC / NB / AP Router / Smart TV / STB / Smart Sound, with high sensitivity and stable connection. In 2015, we launched the HoneyBee BLE SoC RTL8762X series to develop BLE SoC for control on mobile phones.
BLE SoC features a wide range of applications, including voice remote controls, game controllers, smart door locks, logistics and transportation monitoring equipment, Bluetooth keys, and the most popular smart speaker Mesh network in recent years. In addition, Realtek's Bluetooth ICs are adopted for many wearable devices and products with a great reputation in the wearable product market. As the pandemic drags on during these two years, Realtek has actively stepped into the field of smart medical care and promoted the development of medical devices. Our ICs are used in products, including temperature patches, electroencephalographs, wireless stethoscopes, smart blood pressure monitors, and tracking wristbands for the pandemic, to create convenient and healthy lifestyles for people.
The extremely popular BT5.0 BLE SoC has high sensitivity and large Tx power
RTL8762X belongs to the extremely popular BT5.0 BLE SoC series, with high sensitivity, large Tx power, an impressive screen refreshing function, and a stable software development kit (SDK), making it the industry's top choice in BT5.0 BLE SoC. MCU has eight ADCs and eight PWMs with all common interfaces available. Realtek insists that there should be sufficient interface tools for smart voice, such as Voice ADC and infrared learning and transmission functions. We have also included the modified EQ 5Band system. After six years of mass shipments and corrections, we have witnessed diverse development achievements from our clients.
Our SDK for color screen animation helps clients design different user interfaces (UIs). Meanwhile, we have the SDK for speech recognition to allow users to recognize more than dozens of speeches simultaneously, to process a large number of data sources quickly. As Realtek's Bluetooth UI SDK has become more developed and has been extended to small appliances, we provide the best cost-effective and most development-friendly solutions.
Colorful and cool accessories
Our first-generation ICs for wearable product applications were launched in 2015, and we developed the fourth-generation ICs in 2021. We started from the concept of health in 2015, developed the popular large screens in 2018, and worked to satisfy the demand for high resolution (What is a high-resolution screen) in 2020. Realtek continues to improve and innovate, in the hope of providing excellent platforms to clients.
RTL8763E has the advantage of low power consumption and supports high-performance CPU, high-performance audio units, and the latest BT5.3. With the comprehensively improved super large RAM capacity and high-frequency computing capability, the screen display effect has become better, which is particularly important to the display of the watch screen. Therefore, this solution has become the best choice for watch design in the industry.
Bluetooth IC have become the master control of more complex systems with comprehensively improved platform capabilities. The single-IC dual-mode Bluetooth watch solution is highly integrated, with a well-developed and high-performance projection solution and excellent Bluetooth connection compatibility, which will give us better advantages in the development of wearable products.
In the future, Realtek's BLE will continue to develop and roll out solutions in alignment with the needs of the market and clients. We provide innovative products and aim to assist people in creating a better life.